The Edinburgh International Book Festival aims to foster learning and understanding through book-related activities for people of all ages and abilities, instilling a love of books and reading for enjoyment, and helping to bring books and stories to life for people in their own communities.
This year's Book Festival (13-28 Aug) has over 600 inspiring events with some of the best writers, musicians and artists around in a programme that aims to inspire people of all backgrounds and circumstances with author events, workshops, activity sessions, topical debates and more. A lively programme created for children and another especially for schools sits alongside a range of author events taking place in schools, hospitals, prisons and communities around the country, giving opportunities for everyone to take part. To keep the Book Festival as accessible as possible over 200 of the events will be livestreamed in 2022, so anyone can watch from home.
Not everyone can attend events in person, so the Book Festival takes authors to them. Through a weekend of events at the Royal Hospital for Children and Young People, as well as author visits to six Scottish prisons, a local high school and the Streetreads Library, a dedicated place for readers who are experiencing homelessness, many more people can experience the joys of the Festival. Following an event for adult prisoners, one attendee said the experience made them 'feel recognised as human beings', and it is this kind of feedback that inspires the Book Festival's work.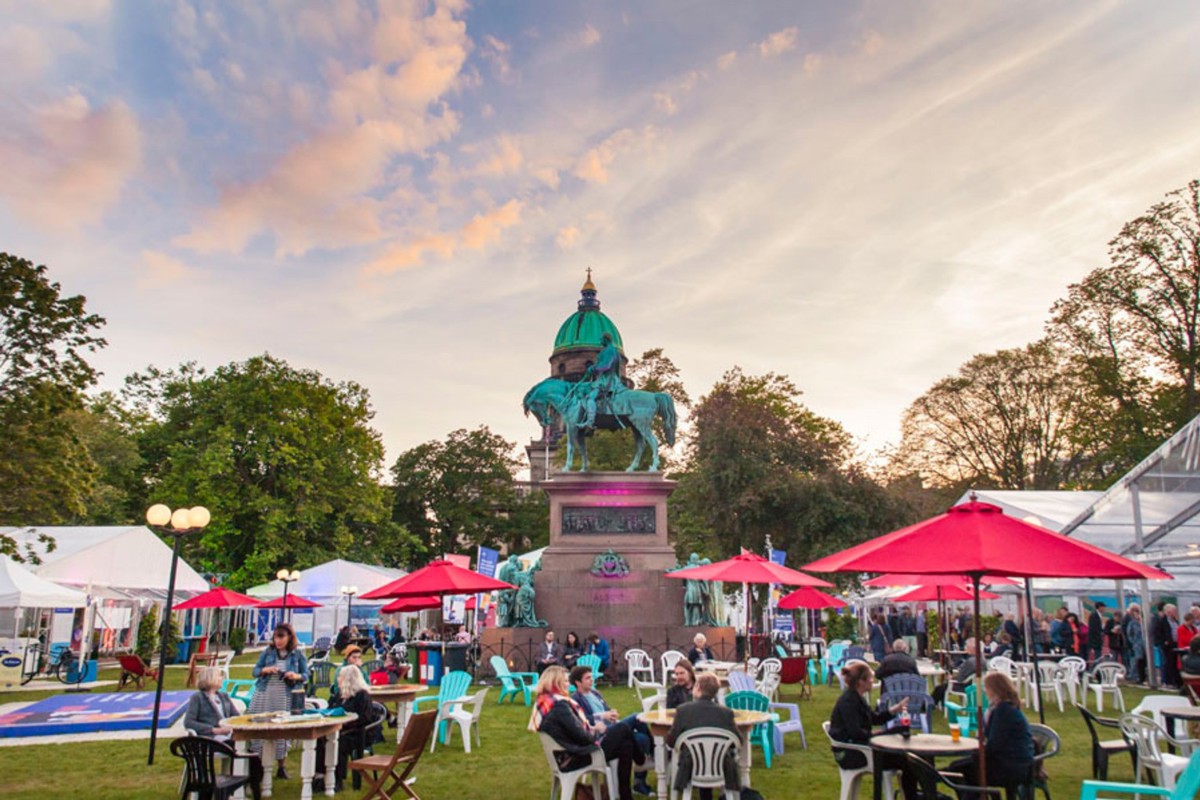 To celebrate Scotland's Year of Stories, a participatory story-making project earlier in this year put authors into community settings in five Scottish Local Authority areas. Andrew O'Hagan worked with inmates at HMP Kilmarnock and Mae Diansangu with resettled Syrian women in Aberdeenshire. In Clackmannanshire, Bea Webster collaborated with a group of D/deaf adults, while Roseanne Watt created film poetry with young people in Shetland, and in Edinburgh Siân Bevan created stories with children at the Royal Hospital for Children and Young People. The stories created provide a snapshot of Scotland from different parts of the country and from different perspectives. During the August Festival, Val McDermid will host a special multi-artform extravaganza called Scotland's Stories Now, featuring the stories and the participants who created them.
And, in Aberfeldy a selection of the year's Book Festival events will be streamed live on the big screen at The Birks Cinema. Free of charge, these include events with Alexander McCall-Smith, Serhii Plokhy, Alan Cumming, Ian Rankin and Brian Cox.
Noëlle Cobden, the Book Festival's Communities Programme Director, said:
"After a really tough two years, during which time many individuals, groups and communities became increasingly isolated, it was so important to us that we got as many people involved in what we do, in whatever way we could. We continue to be hugely grateful to players of People's Postcode Lottery, and to the talented collaborators and partners who make our Communities Programme possible."
Players of People's Postcode Lottery have raised £2,556,500 for the Edinburgh International Book Festival, with funds awarded via the Postcode Culture Trust.