Licensing and Regulation
People's Postcode Lottery
Novamedia established Postcode Lottery Limited in Great Britain and is incorporated in England and Wales.
People's Postcode Lottery is the trading name of Postcode Lottery Ltd and is licensed and regulated by the Gambling Commission under account number 829.
We are committed to responsible play.
People's Postcode Lottery is an external lottery manager, managing charity lotteries on behalf of 20 Postcode Trusts.
Novamedia/Postcode Lottery Group
The Postcode Lottery was launched in the Netherlands in 1989. The success prompted Novamedia BV, the format owner, to launch two lotteries abroad in 2005: Svenska Postkodlotteriet in Sweden and People's Postcode Lottery in Great Britain.
Deutsche Postcode Lotterie launched in 2016 throughout Germany. In 2018 Norsk Postkodelotteri started in Norway. Novamedia BV and the lotteries it manages is known collectively as Postcode Lottery Group.
In 32 years, thanks to the more than 13 million players, the Postcode Lotteries (and VriendenLoterij in the Netherlands) have raised a total of €11.7 billion for more than 1,000 charities and social organisations worldwide. Novamedia/Postcode Lottery Group, the international organisation based in the Netherlands, and its Postcode Lotteries has ranked in the world's top three private charity donors for over a decade. It is named third largest in the world, after the Bill and Melinda Gates Foundation and the Wellcome Trust, and second largest in Europe.

The Postcode Lottery format is unique. Neighbours win together, while helping good causes. It is a highly successful charity fundraising mechanism -- a lottery based on the player's postcode. Millions of players now subscribe to one of the Postcode Lotteries.

In Great Britain, Postcode Lottery Ltd, trading as People's Postcode Lottery, is licensed and regulated by the Gambling Commission as an external lottery manager. It manages and promotes monthly lotteries on behalf of 20 independent charitable Postcode Trusts.

Thanks to People's Postcode Lottery players in Great Britain, more than £900 million has been raised for over 9,000 charities and good causes since 2005.
Structure
Novamedia BV, a company with a social purpose and registered in Amsterdam, the Netherlands, is the owner, creator and investor in lottery formats. Novamedia BV's shares are legally fully owned by a non-profit foundation, Stichting de Novamedia Fundatie (the Novamedia Foundation).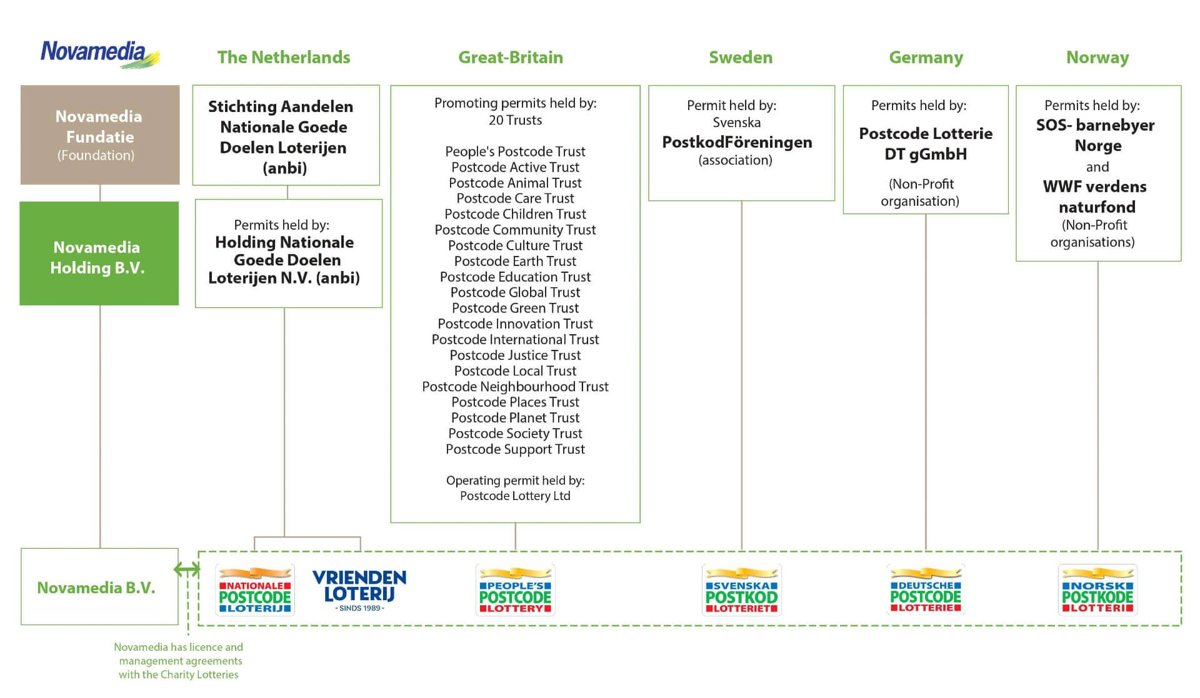 Investment
The ambition of Novamedia BV and the lotteries it manages, known collectively as Postcode Lottery Group, is to continue to increase the amount raised for good causes. This requires constant innovation, investment by Novamedia BV in the brand and format, and the launch of new Postcode Lotteries internationally.

Novamedia BV provided Postcode Lottery Ltd with funding totalling more than €60 million at launch and during its initial growth phase. This amount has not yet been recouped by Novamedia BV as Postcode Lottery Ltd continues to build up financial reserves to support its business continuity. As part of its commitment to corporate responsibility, Postcode Lottery Ltd aims to hold financial reserves to allow it to continue operations for a minimum of 18 months without any additional income.

Novamedia BV charges a licence fee for the use of its intellectual property including the full detailed understanding needed to operate the Postcode Lottery format by Postcode Lottery Ltd, a 100% subsidiary of Novamedia BV. This fee is mainly used to finance and set up new Postcode Lotteries, as well as the continued development of Novamedia's formats.

Novamedia/Postcode Lottery Group: Organisation and governance