Cwmbran's NP44 3 postcode sector has landed 606 people with a share of a £3 million prize, after it won this month's People's Postcode Lottery's Postcode Millions draw.
Six neighbours playing with the full winning postcode, NP44 3DD, picked up cheques for the biggest prize sums – each winning an incredible £196,528. And the good news kept coming for one of the lucky six Poppy Field Avenue winners, who doubled their winnings to a whopping £393,056 thanks to playing with two tickets.
The remaining winners received cheques ranging from £2,387 and £9,548, depending on how many tickets they play with.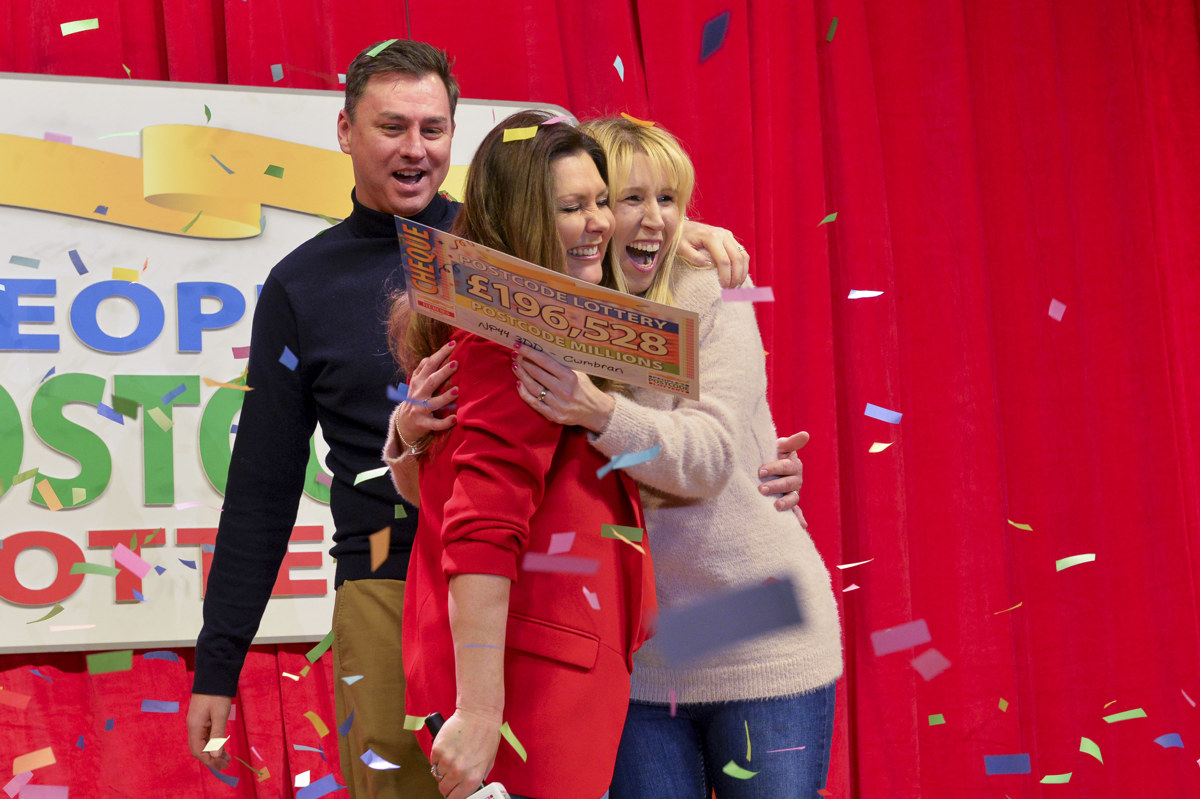 Joanne screamed all the way from the crowd to the stage when she saw her postcode be announced as the winner.
Nursery teacher Joanne James, 43, and her husband Huw landed £196,528.
Joanne said: "This is going to make a huge difference to us.
"Our children, Tom and Georgina, both have bad eyesight, and this means we'll be able to get the operation that our Georgie needs.
"That just by playing we are helping raise money for charity is hugely important to me. I lost my mum to cancer and I suffered so badly with the loss. What charities do to support people is just incredible and so important.
"It was the loss of my mum that pushed me to retrain and become a nursery teacher – I know that all she'd want is for me to be happy. One day I'll maybe be able to open my own nursery now."

Her husband Huw added: "We're going to enjoy life now."
Chloe James, 30, and her partner Joe Elliot had gone home after finding out they'd won £2,387, to get back to their nine-month old daughter, before the full winning postcode was announced. They saw on Facebook that their postcode had been drawn and rushed back to the leisure centre where the event was being hosted to find out.

When the couple were presented with their new cheque of £196,528 they both screamed in shock.
When the couple were presented with their new cheque of £196,528 they both screamed in shock.
Chloe said: "This is going to change our daughter's life. We can buy a house now. It's life changing!"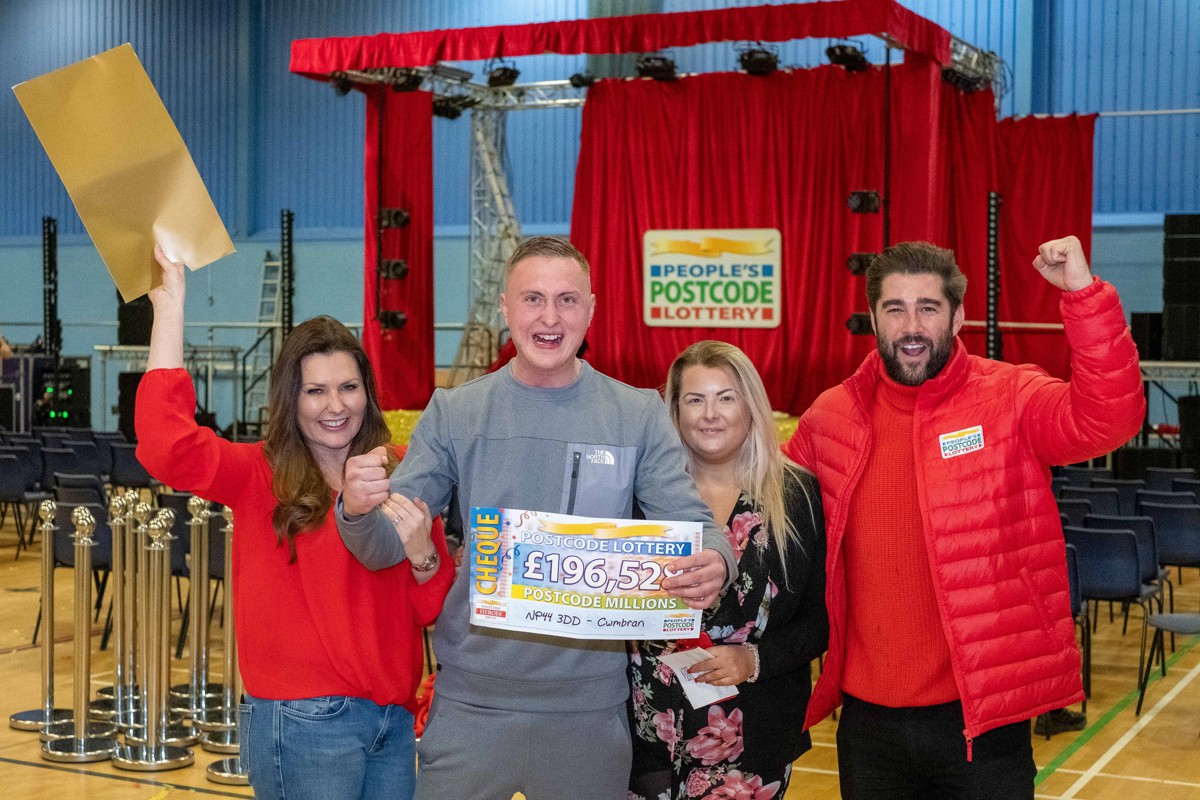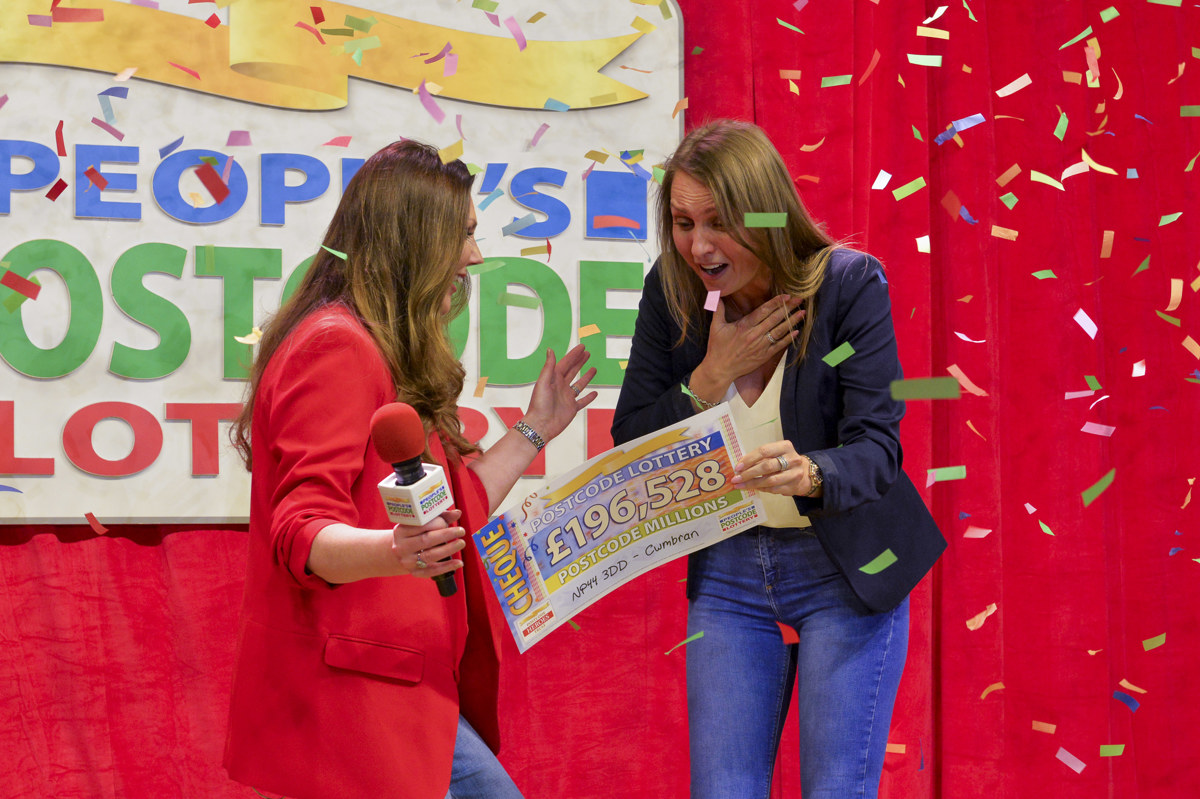 Local finance worker, Louise Harris, 42, also won the £196,528 prize.
She said: "I'm totally speechless. I never expected to win this kind of money and the champagne will definitely be popping tonight.



"Since hearing my postcode area had won, I haven't been able to stop singing the 'someone's knockin' at the door' song. I'm ecstatic."
Louise has a few ideas on how she'll put her winnings to good use, including a few treats for her nine-year-old daughter, Daytona.
She added, "Daytona had her heart set on a dressing table for her bedroom. She kept saying 'it will be a big win, mum, I'm sure' and she was right! I've also always wanted to take her on a safari holiday. South Africa would be top of my list and thanks to winning, I'll be able to make it even more memorable for us both."
Three local care home residents were also among the lucky Postcode Millions winners, with each receiving £2,387.
People's Postcode Lottery ambassadors Judie McCourt and Matt Johnson hosted the special winners' event at Cwmbran Stadium.
Congratulating the winners, Wales' own Matt Johnson said: "It's been absolutely brilliant to see so many neighbours winning and celebrating together today. Finding out what the win means to them is one of my favourite parts of a Postcode Millions and none of our winners were short on ideas as to how they'll spend the cash.
"A massive congratulations again to all of our lucky Cwmbran winners!"
Today's winners weren't the only ones receiving a gold envelope this weekend. A special funding award of £15,000 was presented to Llanhilleth Miners' Institute, to help fund its efforts in supporting local flood victims of Storm Dennis.
Tom Whyatt MBE, chair of Llanhilleth Miners' Institute, said: "We are absolutely delighted that People's Postcode Lottery has awarded £15,000 to the Llanhilleth Miners Institute to support our community engagement work.
"The award will support our community engagement staffing and running costs to enable us to continue to provide support in the future both to flood victims and to the wider community.
"A very big thank you to the players of People's Postcode Lottery."
Matt added: "The team at the Miners' Institute are providing much needed support to those within the local community who have been affected by the recent flooding. Thanks to players, this funding boost will enable this good cause do even more at a time when people need it most."
With People's Postcode Lottery, players win and good causes win. A minimum of 32% of each ticket goes to charity and players have raised more than £500 million for 7,500 charities and good causes since 2005.
National Museum Wales has received more than £1.9 million since 2014. This funding has supported a range of projects, including helping make the Big Pit National Coal Museum dementia friendly.
Many smaller good causes, nearby to the winning postcode sector, have benefited from the support of players too. Blenheim Road Community Primary School received £1,000 for outdoor learning resources and Torfaen Citizens Advice Bureau's Smart About Money project was able to help provide more people in crisis or facing homelessness with debt, benefits, tenancy and budgeting guidance and support thanks to a grant of £20,000.
This month's Postcode Millions draw was held on behalf of Postcode Heroes Trust. Funded by players, it supports good causes making a positive impact to communities through education, health, community development, sports focused projects, and more.